Guest who are approved for a Ride Access Pass will be issued with a blue photo Ride Access ID Card which shows our ride attendants who is entitled to use the pass. This is valid for 3 years at THORPE PARK Resort, Alton Towers Resort, Chessington World of Adventures Resort, and LEGOLAND Windsor Resort.
Once approved, to collect your Ride Access Pass, please make your way to the Accessibility Kiosk between 9:15am - 12:00pm. For arrivals after this time, you can collect the Ride Access Pass from Guest Services located in the Lower Dome.
When you receive your Ride Access Pass, the back page features a time card which will accompany your Ride Access ID Card. On the time card, it will give you the specific entrances required to access each Ride/Attraction with your Ride Access Pass. This will either be a designated entrance, FastTrack entrance, or the ride exit and there are symbols which indicate the specific entrances to each attraction on both our park map and THORPE PARK app.
On our rides, guests will be given a time (noted on the time card) in which they can return to their next ride based on the main queue time. Guests can ride High Striker, Mr Monkey's Banana Ride, or watch Angry Birds 4D in between the allocated times.
Please be aware that instant access to a ride is not possible and a certain amount of queuing will still be required. Our rides hosts are trained to batch each of our queue lines equally to ensure fairness and consistency.
Helpers may only use the Ride Access Pass when accompanying the disabled guest.
Please visit our Accessibility Page for more information.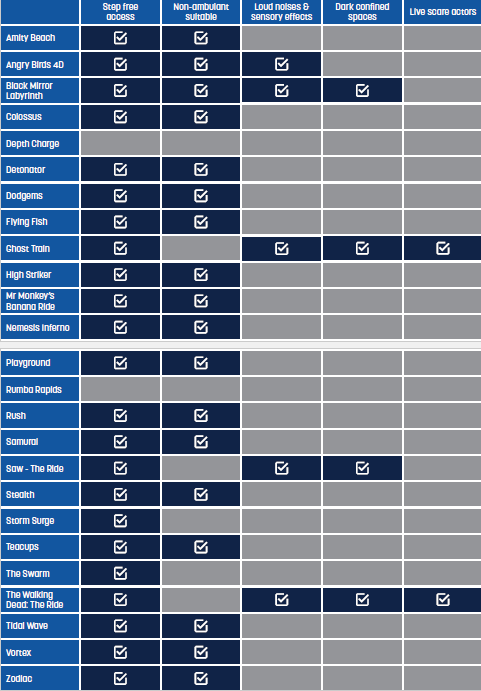 (Front page of Ride Access Pass)                         (Inside of Ride Access Pass with restrictions)
Please note that it is not uncommon for our Ride Access Pass to be updated and adjusted with new information, but our teams will ensure this is reflected on this page as soon as possible. Be sure to speak to staff on-site at Guest Services if you do require any additional assistance.